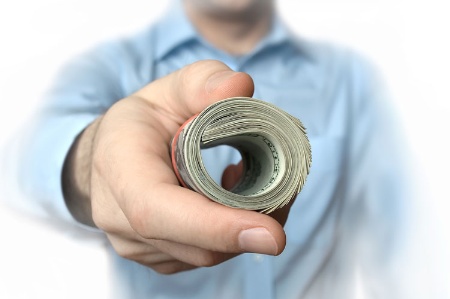 Your irresistible offer can actually be incredibly simple and short. In fact, this often works better than virtually giving away a huge great product that took you months to create. (Save that for one of your upsell offers!)
A short offer that deals with one simple problem – or one specific aspect of a problem – or teaches one specific tactic that will boost your subscriber's skill – will stick in her memory much better than that hefty book filled with a whirlwind of jostling information.
But "short" doesn't mean "careless". This is no piece to dash off in half an hour: Oh, that will probably work, if you've correctly identified your target subscriber. But it won't bring you the biggest and most targeted conversion.
Creating a simple solitaire diamond and offering it to her will work better than a whole basket of flashy, dollar-store costume jewelry. And definitely much better than a single, dollar store bracelet.
Craft the perfect little gem.
And it will be perfect, because you will choose the perfect offer – that one thing that your market most desires or needs.
Only you know what is most appropriate for your particular niche, but here are some suggestions to help you along…
1. Tip Sheets – These are extremely popular, but make sure the tips are original and useful: Not just "same-old, same-old" lifted from a few duplicate sites.
2. Resource Lists – Niche beginners love these, since they are often actively seeking for suppliers, books, software or apps that can help them.
For example, if your resource list is intended to make Pinterest curation and creation easier and your niche is made up of beginners, lists that show infographic creation sites or stats sites like Repinly can be really attractive to this type of potential subscriber.
3. Templates or patterns – Again, these can be useful to beginners – or even to advanced hobbyists or professionals within a niche.
With business niches, something that saves time is the way to go.
With craft-based niches, something that makes a process easier or more "perfect" can be viewed as "priceless" by your target subscriber.
(Always pay attention to what your subscriber is trying to achieve, when you design a template – as well as to her level of expertise.)
By way of an example, Click Here and take a look at this tried, tested & proven example of an Irresistible Template Offer to see how well something like this might work for your business.
4. "How to" Products – If you go this route, be sure to choose demonstration of the single point that is giving everyone in that niche the most trouble.
Clarify a confusing instruction
Show them how to perform a small but tricky process
Teach an easier way to achieve something
5. Short Report – And then, of course, there's always the short report… providing it's really valuable, current – and not some old re-hash of out-of-date material.
6. Mini eCourse – This is another proven draw – and so easy to do.  A mini, 5-7 day email course has the added advantages of:
Actively engaging your audience
Getting them in the habit of looking for you in their inbox
Helping them remember who you are
Creating a bond
Positioning you for coaching or membership site creation
Helping spread word of mouth
7. Sample Chapter – If you've written a book, offering a sample chapter is a sound strategy. (Pick your best chapter – and leave them with a cliff-hanger, so they'll want to "know more" and rush to buy your paid, complete book.)
Create a Facebook Page for your book too – and offer the sample chapter in an App tab. (Be sure to "Promote your Page" through a Facebook ad that will be offered in your new Page dashboard: It should only cost about £20.00 to get someone to do it for you.)
There are many other ideas for your irresistible offer – but not all are cost-effective or viable. For example, mobile users may love a free App, but if it costs you thousands of pounds to have one created, that probably wouldn't provide the best return on your investment.
However, on the other hand, when you know how you can create a really effective one that will attract highly motivated prospects in just a few hours.
If you'd like to know how this is possible and what exactly it must contain then I'd be happy to give a complimentary copy of my hands-on Hot Prospecting training program.
Just click the button below, book a time for a chat and I'll tell you what the best type of lead magnet would be best for your particular business. Because if you create the wrong type of lead magnet you aren't going to attract the right type of prospects for your business, are you?

And remember, you won't leave without taking away the full day's Hot Prospecting training program, which will guide you through creating your own appropriate, prospect generating, lead magnet you'll could have up and running and attracting clients before the end of the week.