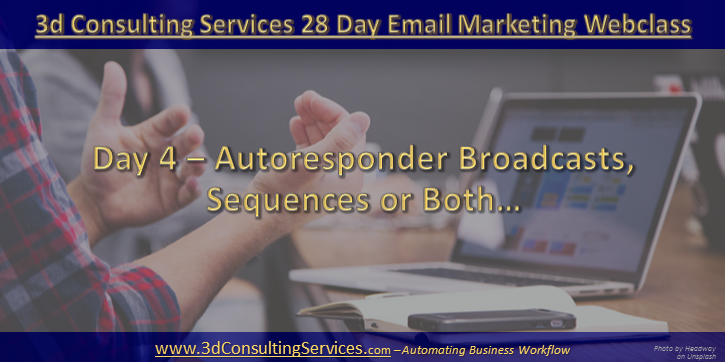 Autoresponder Broadcasts or Sequences?
One of the first decisions you have to make when you sit down to write an email to your list is if you will add it to your auto-responder or send it to your list as a broadcast. Of course there's also the option of doing both. In today's post we'll quickly run through that decision making progress and walk through some scenarios for each.
To make sure we're on the same page, let's define them. A broadcast email is a message that goes out to your entire list of subscribers at the same time. Let's say we are working with a list of 2,000 subscribers. When sending a broadcast email today, every single one of those people will get the email in their inbox. With an auto-responder, they will receive the message depending on when they signed up for the list. The big advantage here is that when someone new signs up next week, he'll eventually get the auto-responder message, but miss the broadcast email.
There are some cases when you know you should be using a broadcast email. When you come across a great offer for your list with a time limit on it, it will most certainly be a broadcast email. When you're promoting a webinar or event, it will be a broadcast email. If you're talking about anything time sensitive (mentioning a holiday in your content for example), you should probably send it out as a broadcast. Of course your weekly or monthly newsletters will also go out as broadcast emails.
When the content or offer you're sharing is evergreen, it makes sense to stick it in your auto-responder. Over time, it will get more exposure as your list grows. And of course there are specific emails you write for your A/R from the start like your welcome email and a series of messages designed to introduce yourself to your readers and start building that rapport that's so important.
With the rest of the evergreen content, it's really up to you. A great strategy is to send email messages out as a broadcast first so you can get real-time reactions from your readership. Then take the emails that perform well and add them to your auto responder sequence. Some of your readers will see the email again and anyone new to your list will see it eventually. It's a great way to repurpose your email content and make sure you get the most from each email message you write.